Posted by Becky Condit on December 10, 2013
"A mix of needs walked side by side in this place–gay, lesbian, bi, het, mènage–in rooms where the doors shut and no one asked questions."

GENRE: M/M, family
RATING: 5 Sweet Peas!

CLICK TO TWEET : Becky reviews Crooked Tree Ranch by RJ Scott. 5 Sweet Peas!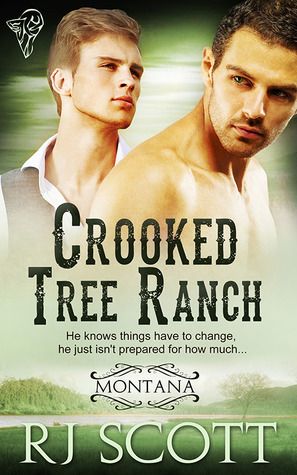 BLURB: On the spur of the moment with his life collapsing around him Jayden Sullivan answers an ad for a marketing expert on a dude ranch in Montana. With his small family he moves lock stock and barrel from New York to Montana to start a new life.
Foreman and owner of a third of the ranch, ex rodeo star Nathaniel 'Nate' Todd has been running Crooked Tree Ranch. His partners in the business convince him that he needs to get an expert in to help the ranch survive. He knows things have to change and but when the new guy turns up, with a troubled family in tow – he just isn't prepared for how much.
BECKY'S OPINION: For a Brit, RJ Scott sure can write her cowboys. I love them. I always get totally involved in the characters and end the book wanting more. In this case that's no hardship because this is the first book in a new series.
The other trope I love is city boy falls for country boy and they have to decide together whether they will make a new life on the ranch or in the city. Budgetary woes and family pressures add to the angst of this book. The MCs are heads of households for their respective extended families, and that takes precedence over any personal relationship or sexual relationship either Jay or Nate would like to develop. (more…)